IMPACT Early Intervention Program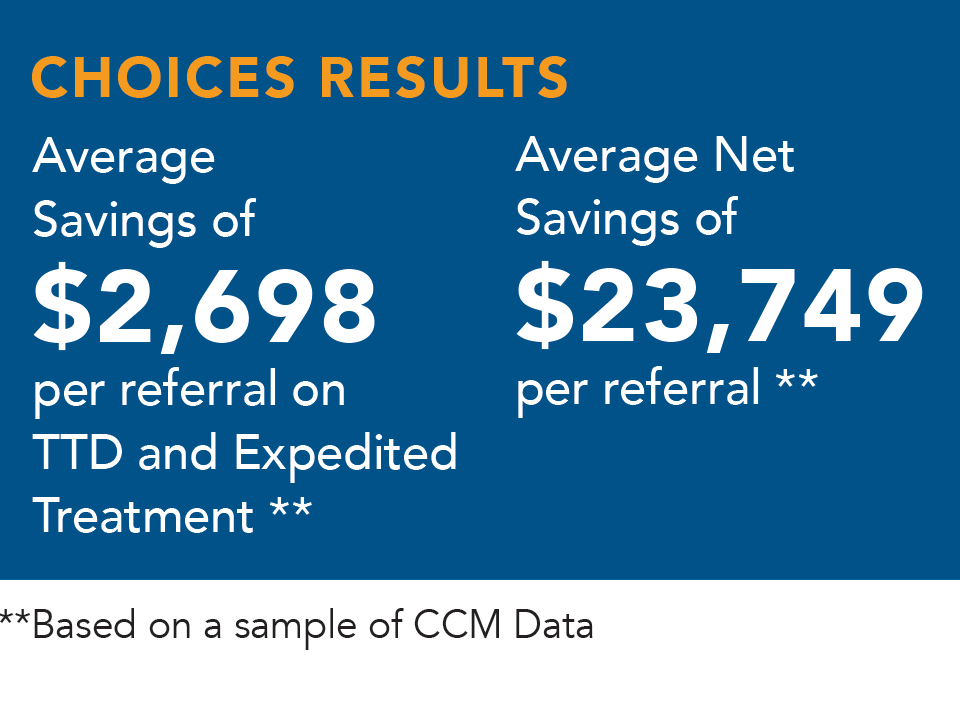 Early intervention, conducted by a skilled nurse case manager, is a proven strategy for quickly assessing workplace injuries, obtaining early and appropriate treatment and care, and returning injured employees back to work sooner.
Plus, the return on an early intervention investment is tremendous – it can lower future medical costs on average by 18%, lower overall claim costs on average by 26%, and reduce by 15% on average the time required to resolve a claim.*
Here's how it works:
Referral submitted to Choices (automated referral process available)
A Choices telephonic nurse case manager (NCM) is assigned within approximately one business day on all new medical and time loss injuries (excluding first aid).
NCM expedites and coordinates:

initial assessment, communicated via same-day, three-point contact protocol
follow up evaluations
treatments and authorizations
medical reports / work status
Auto-authorizations (RFA) by RN available per client criteria

NCM dialogues with claims examiner for determination of continued nursing services.
Request detailed savings case studies
Benefits of early intervention
Early assessment and identification of serious injury by a skilled nurse case manager
Expedited and medically appropriate treatment referrals reduce treatment delays
Early and responsive communication with adjuster, employer and provider
Ensures employee compliance with prescribed treatment plan
Keeps treatment in network
Demonstrates employee value by early employee contact, support, and education
Promotes return to work as positive benefit; reduces extended absence
Reduces time loss, disability payments and need for temporary workers; minimizes workflow disruption
Decreases likelihood of need for long-term medical case management and associated TPA time/costs
Helps avoid litigation and associated costs
The bottom line – early intervention produces better medical and return to work outcomes at substantial savings.